The Waldhotel Winden (roughly translating to the Winden Forest Hotel), at the beginning of Dark, is a hotel in Winden operated by Regina Tiedemann.
In 1953, it was the estate of the Doppler family, where Bernd Doppler, his wife Greta, and their son Helge live. A strict mother, Greta berates Helge for arriving home in dirty clothes and forces him to disrobe in the entrance hall.[1]
In 1987, it was still in the hands of the Dopplers; Claudia Tiedemann visits Bernd here seeking more information about the 1986 incident at the nuclear plant.[2]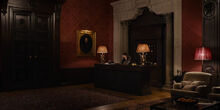 In 2019, the manor has been converted to a hotel, with Regina as its proprietor.
Its financial difficulties are exacerbated by the disappearance of Erik Obendorf, which does not exactly attract tourists.
Regina is thus surprised when a mysterious hooded stranger arrives and asks for a room.[3]
After a few days, the stranger tells Regina he is leaving for a few days but will return, and asks her to deliver a package addressed to
Jonas Kahnwald
, which she does.
[4]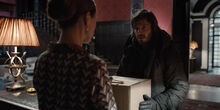 Regina enters his room #8 and is shocked to discover its walls papered with notes, clippings, and photographs about the disappearances, time travel, and other topics.
[5]
Behind the scenes
Edit
The exterior establishing shot is of Schloss Lanke (Lanke Castle) in Lanke, Brandenburg. It was originally the family home of the von Redern family of Prussian nobility, and renovated to its current appearance in the mid-19th century. It is now an event space and vacation rental.
According to FilmTourismus.de, Reise Reporter, and other sources, interior scenes are filmed at the Schlosshotel im Grunewald, Berlin, currently operated as the Patrick Hellman Schlosshotel.
References
Edit
Community content is available under
CC-BY-SA
unless otherwise noted.