"The distinction between past, present and future is only a stubbornly persistent illusion" ― Albert Einstein
Dark
is a German supernatural family drama series created by
Baran bo Odar
and
Jantje Friese
. Set in the fictional small town of
Winden
, it revolves around four interconnected families haunted by their secrets, and contains elements of science fiction and fantasy.
The series is Netflix's first original German series. The first season premiered on December 1, 2017. The second season will be released in 2019. The third season will conclude the series.
In the German small-town Winden, the disappearance of two young children exposes the double lives and fractured relationships among four families. The story takes on a supernatural twist that ties back to the same town in 1986.[1]
Episodes
Edit
Development
Edit
Conception
Edit
The series was created by Swiss director Baran bo Odar and German writer Jantje Friese. It was produced by Quirin Berg, Max Wiedemann and Justyna Müsch. All of the aforementioned had previously collaborated on the 2014 film Who Am I, which grossed $6 million at the local box office and won three German Movie Awards and the Bambi for "Best German Film."[2][3]
Netflix approached Odar and Friese after seeing Who Am I at the Toronto Film Festival in 2014, asking if they could make a series out of it. Reluctant to repeat themselves, Odar and Friese instead pitched other ideas to Netflix, one of which was Dark.[4]
Dark was Netflix's first original series entirely authored, shot and produced in Germany.[2] The move into German television drama was part of the company's global strategy, with which they hoped to attract more foreign subscribers and boost their library of originals worldwide.[3]
Odar and Friese felt that German television was associated with something ugly and sad, and that all German series were either thrillers or crimes, so they wanted to create something of a higher quality for a universal audience. They were inspired by the Scandinavian Nordic Noir genre.[5]
Initially, Dark was an idea for a crime show they had written two years prior to being contacted by Netflix. They had another idea for a time travel feature film and they combined the two ideas.[6]
Having grown up in a small town themselves, the creators had a fascination with the subject of the darkness hiding behind closed doors in a small town. David Lynch's Twin Peaks, which deals with the same topic, shaped them in their teenage years.[5] They were also inspired by their childhoods in German small towns during the Chernobyl nuclear disaster, when release of radioactive materials spread fears of contamination.[7] Other influences are Stephen King and David Lynch.[6]
There are 72 characters in the series, including three different actors for the same character across three different time periods. Friese called structuring it a "complex task."[6]
Before its release, the series was often compared to Stranger Things based on its premise and partial 1980s setting. However, Dark was already in pre-production when Stranger Things premiered and the series is much darker and not for kids.[6] Friese stated they enjoyed the comparisons, saying: "It's really exciting because if all those people who watched Stranger Things will at least think about watching Dark, I think that's a great opportunity for us."[4]
Some details had to be changed for the international audience to understand it. For example, some instances of sarcasm in dialogue did not translate well to English because of the difference in tone. However, Netflix were okay with keeping some things which only Germans would understand, as long as the overall narrative worked for everyone.[7]
The series will conclude after a third season, which the creators had envisioned from the beginning, with Bo Odar commenting they did not want to end up like Lost.[8][9]
Netflix's backing allowed the creators to cast whoever they pleased, including unknown actors. Netflix told the filmmakers, "We don't really know German actors -- just get the best ones."[10] Bo Odar praised the creative freedom they got from Netflix. He said: "We could cast whoever we wanted, the actors who fit best for the role. Netflix gave us a budget and a couple of notes and let us do it."[11]
Production
Edit
Principal photography commenced on October 18, 2016 and lasted for six months until it wrapped on April 8, 2017. There were a total of 151 shooting days including second unit shoots.[12] Odar directed all ten episodes.
Filming took place in Berlin and surrounding areas.[13] Much of it was done on location during winter, with many of the scenes set in rain. Actor Louis Hoffman said it was hard to always be cold and wet.[4]
The series was filmed in 4K High Definition on a special Alexa 65 camera.[14]
The series was scored by Ben Frost.
Marketing and release
Edit
Netflix announced on February 24, 2016 that they had ordered ten, hour-long episodes of the series scheduled for release in late 2017.[2] Jantje Friese stated "The way Dark was embraced by Netflix was extraordinary. We're so happy to be making this show in Germany for Netflix subscribers around the world to enjoy."[2]
The first 1-minute teaser was released on March 1, 2017. Another 1-minute teaser was released on October 4, announcing a release date of December 1, 2017. The full, 2-minute trailer was released on November 9 along with the official poster.[15]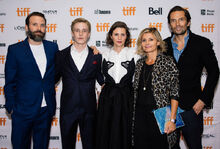 The series premiered at the 2017 Toronto International Film Festival, with screenings of two episodes on September 9 and September 11.[16][17] Creators bo Odar and Friese, actor Louis Hoffman (Jonas) and producers Quirin Berg and Justyna Müsch attended the festival.
In Germany, the first three episodes were screened to the public in cinemas in November. The lead actors and producers attended a special event at the Zoo Palast.[14]
Reception
Edit
Based on the teasers and trailer, Dark drew comparisons to Stranger Things, Twin Peaks, The Killing, The Missing, The Returned.[18][19][20][21] Writers particularly took note of the similarities with Stranger Things, another Netflix original series with a missing child storyline and 1980s setting.[22][23][24][25][26][27]
References
Edit
Community content is available under
CC-BY-SA
unless otherwise noted.