Wiki Targeted (Entertainment)
Play Sound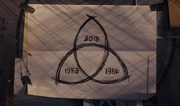 The number 33 is significant in Dark.
In Dark

[

]
Time travel through a wormhole is possible in increments of 33 years. For example, from 1986 one can infir 33 years in the past to 1953 or 33 years in the future to 2019.
The lunar-moon cycle, when the sun and moon align, repeats every 33 years.
33 sheep died simultaneously in 1986.
The veterinarian who reports it quotes Mark 13:33 Be on guard! Be alert! You do not know when that time will come.
H.G. Tannhaus mentions the significance of the number to Jonas: Jesus performed 33 miracles, 33 litanies of the angels, and Dante's 33 cantos in purgatory and 33 in paradise. Jonas adds that 33 is the age the anti-christ begins his rule.
Other references outside the show
[
]
Jesus Christ was 33 years old at his death and resurrection. He will also be 33 years old when he returns to kill the antichrist when he falsly claims to be the messiah and later on claiming the title of god.